Remote Control Electric Hydraulic Crane Grab Bucket for Material Handling
Wireless Remote Control Electric Hydraulic Scrap Metal Crane Grab Bucket
Wireless Remote Control Electric Hydraulic Scrap Metal Grab Bucket for crane is produced by our company introducing advanced manufacturing technology from Europe and America. The main hydraulic components adopt internationally famous brands. This kind of crane grab has large grabbing power and a high degree of automation. It is an ideal loading and unloading tool for large ore, pig iron, scrap, garbage, iron powder, straw, slag, and other materials. It is mainly used in steel, mining, forestry, coal mines, seaports, scrap steel acquisition, garbage disposal, bio-power generation, and other industries.
The product is compact in structure, beautiful in appearance, energy-saving and easy to operate, and suitable for different industries and occasions.
Nybon Machinery is a famous heavy-duty equipment manufacturer,we have a wide product line covering cranes(overhead crane,gantry crane,ship crane,jib crane.etc),winches(gate hoist,electric winch,diesel winch,hydraulic winch,boat winch,anchor winch.etc)and electric hoists(wire rope hoist,chain hoist,new type hoist.etc)
The electric hydraulic grab adopts electric and hydraulic mechanical techniques for large grabbing forces and high automation.
Electric Hydraulic grab can be divided into Motor-Hydraulic clamshell buckets and Motor-Hydraulic orange peel buckets, which are widely used in bulk handling in domestic and foreign industries such as ports, shipping, railways, power plants, steel mills, waste incineration power plants, and cement plant, and are favored by many users.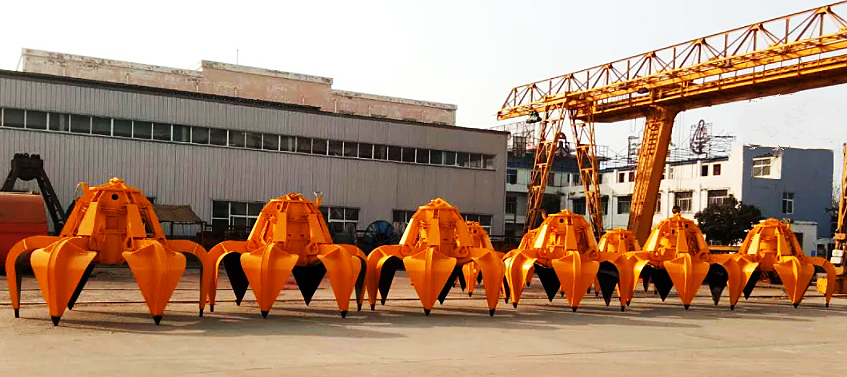 | Model | Grab | Power | Electric |
| --- | --- | --- | --- |
| Certification | GS, CE, ISO 9001 | Sling Color | Customizable |
| Design Code | GB | Electric Standard | IEC, Nec |
| Crane Capacity | 3t/5t/8t/10t/15t/16t/20t | Lifting Type | Electric /Hydraulic |
| Volumes | 0.5/0.6/0.75/1/1.5/2/3/4/5m3 | Package | Plywood case |
| Specification | 1-20t | Trademark | Nybon |