Brief introduction of chain hoist?
The chain hoist is a light and small lifting equipment. The electric chain hoist consists of a motor, a transmission mechanism and a sprocket. The electric chain hoists are all produced in accordance with international standards, and the internal gears are all quenched at high temperature, which increases the wear resistance and toughness of the gears, and the gears fit tightly.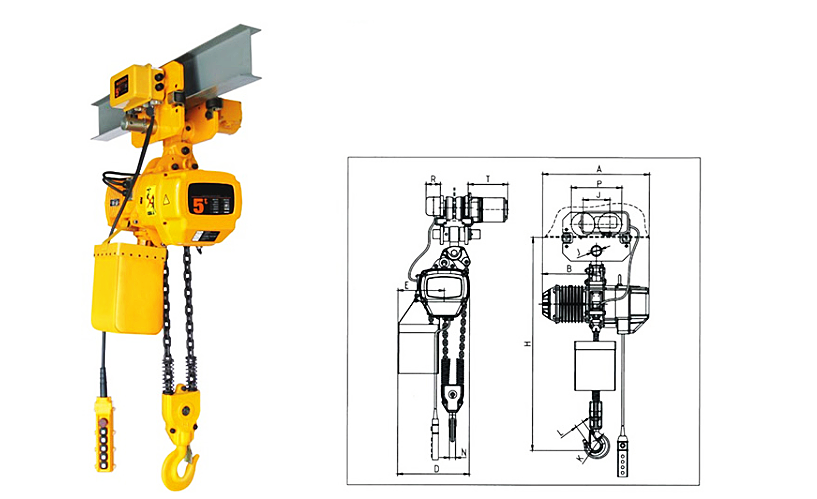 Electric Running Monorail Motor Chain Hoist
Running Type Single Speed Electric Chain Hoist
1.Aluminum Parts(material):Casting Aluminum Chain Wheel
2.Hoist Panels:Processed by grinding machine
3.Gearbox:CNC Machining
4.Hooks: heat forging+heat treatment
5.Protection class: IP65
6.Usage: Gantry Crane,Bridge Crane,Lifting Platform,Workshop,Construction Buliding,etc.
7.Power Specification:200~690V,50/60HZ,3 Phase
8.Customized logo acceptable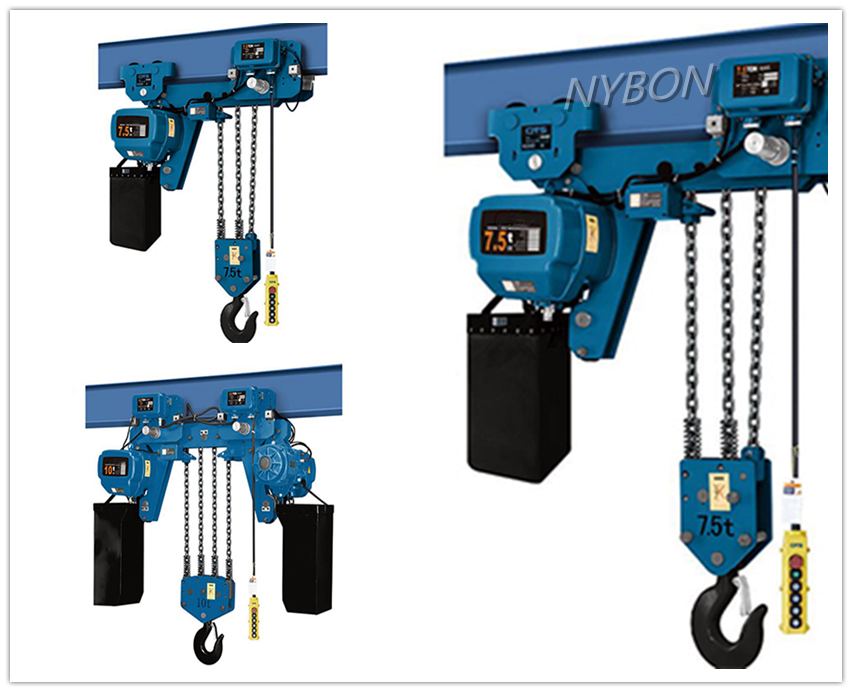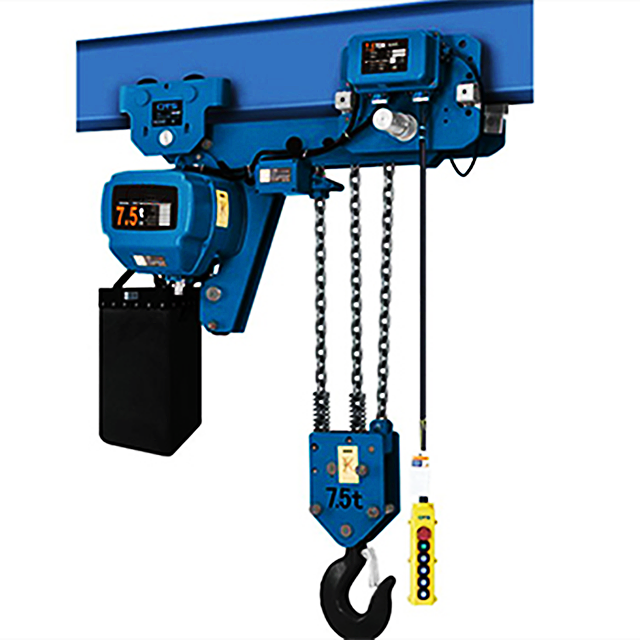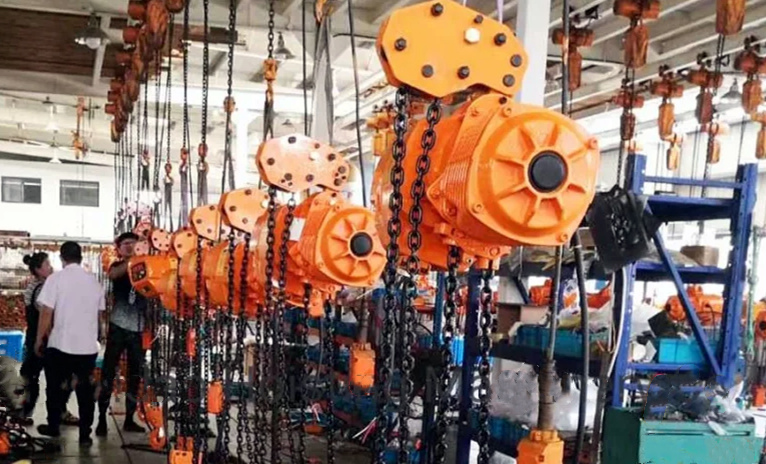 Structural features of electric chain hoist:
The body is made of high-strength tensile shell or die-cast aluminum shell, and is precisely manufactured by thin-wall extrusion molding process, which is small in size, light in weight and high in strength. The standard electric chain hoist has an independent gearbox system, a two-stage coaxial transmission gear mechanism in the sealed gearbox, and a long-life oil bath lubrication system. The powder metallurgy clutch of the electric hoist is used as an overload protection device, and the braking adopts the disc-type DC electromagnetic field braking, which has large braking torque, stable, rapid and low noise.
Nybon Chain Hoist
We can accept OEM for the lifting equipment you're looking for,should you need any further information,please feel free to leave us a message.
Tonnage of electric chain hoist: 0.1T 0.25T 0.5T 1.5T 1T 2T 3T 5T 10T 20T 25T 30T 50T 60T. Electric chain hoist installation and use: hoist single girder, bridge crane, gantry crane, hanging crane. It can also be used for hoisting. Therefore, electric hoist is one of the commonly used lifting equipment in factories, mines, ports, warehouses, freight yards, shops, etc., which is to improve labor efficiency. Essential machinery to improve working conditions.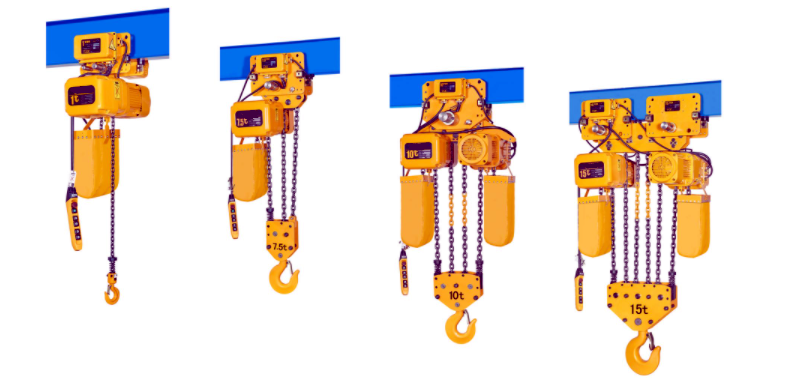 NYBON Electric Chain hoist is typical of unique optimal structure in shortening the distance between the machine body and the beam tracks, applicable to operations inside low buildings, especially suitable for use in temporarily erected plant buildings or on the sites where the expansion of effective hoisting spaces inside the buildings is required the most important parts of the Machine is Chain and brake system.
Wire Rope Hoist
Polipasto de cable
Wire Rope Hoist
Electric wire rope hoist is small lifting equipment with the advantages of compact structure, lightweight, small volume, strong universality of parts and convenient operation, etc. It is mainly used for various lifting, pulling, loading, and unloading heavy objects.
Chain Hoist
Polipasto de cadena
Chain Hoist
The weight of the electric chain hoist is generally 0.1 to 60 tons, and the lifting height is 3 to 120 meters. The characteristics of the electric chain hoist: advanced performance structure, small size, lightweight, reliable performance, convenient operation, and wide application range.
New Type Hoist
Nuevo tipo de polipasto
European standard Hoist
The European hoist adopts a unique design concept, which has the characteristics of small size, lightweight, and small wheel pressure. Compared with traditional cranes, the limit distance from the hook to the ground (floor) is the smallest, and the clearance height is the lowest.
Nybon Chain Hoist
We can accept OEM for the lifting equipment you're looking for,should you need any further information,please feel free to leave us a message.
Advantage of Nybon Chain Hoist
1, Long service life, improve cost efficiency for customers
2. Reliable performance and easy operation
3. More effectively protect the safety of personnel and equipment
4. Exquisite appearance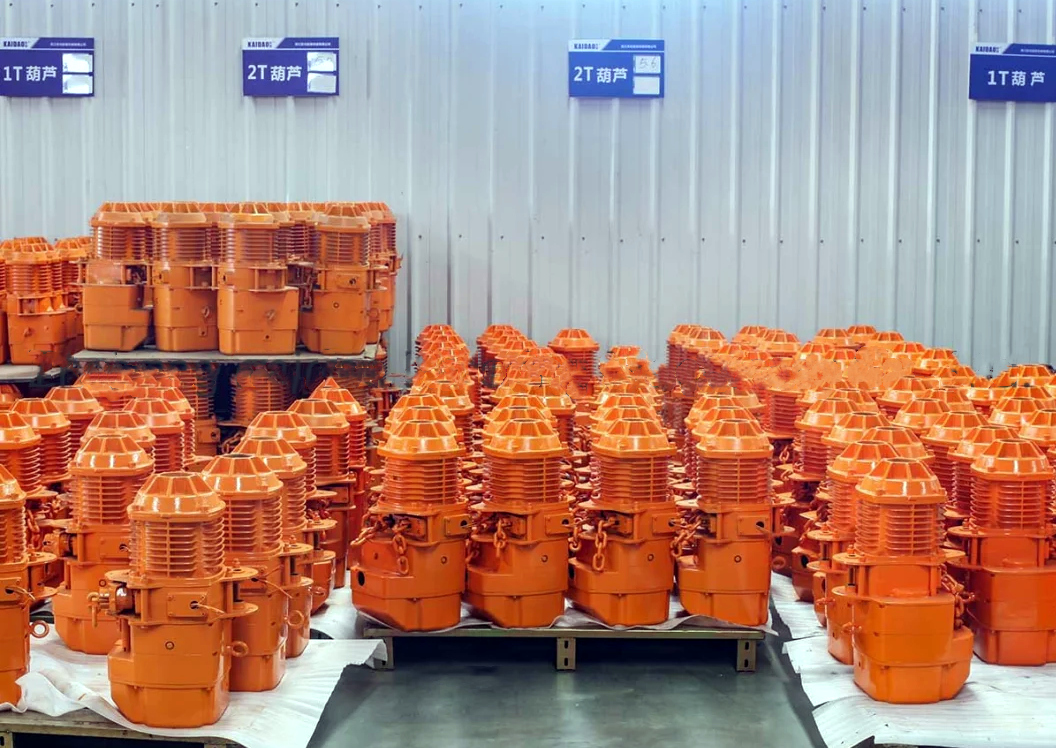 Safety advice of chain engine hoist
Precautions during the use of hoist
1. The electric hoist that is installed or reassembled for the first time should be operated without load first, but make sure that the components are installed properly and do not energize.
2. Before normal use, a static load test should be carried out with 125% of the rated load, lifting about 100 mm from the ground, and 10 minutes, and check whether it is normal.
3. The electric engine hoist should be operated by a special person, and the operator should fully grasp the safety operation rules.
4. In use, the electric engine hoist must be checked regularly by specialized personnel, and measures should be taken in time if any faults are found, and they should be carefully recorded.
5. Sufficient lubricating oil must be maintained during the use of the electric hoist, and the lubricating oil should be kept clean and should not contain impurities and dirt.
6. When the electric hoist is not working, it is not allowed to hang heavy objects in the air to prevent permanent deformation of the parts.
7. During use, if a fault is found, the main power supply should be cut off immediately.